(A) Chief Series Smart Charger 4012
Product Code: 091-266-12-40
Description
High Power Triple Battery Bank Charger with Built-In Touch Display and Communications
Features
Triple Battery Bank
Built-In Touch Screen Display
Dual Battery Type Technology – allows for two dissimilar battery chemistry charging at the same time
IP32 rated for greater ingress protection
CAN Bus enabled connectivity
Parasitic Load Compensation (PLC) – allows for user input of total accessory load amps on the vehicle. This allows the charger to shift the absorption stage set point, so the battery voltage drops to the float voltage when the desired current is reached
Configurable for 3-step or float charging
Optional Remote Touch Display Available
Accommodates Flooded, Gelled Electrolyte, AGM, Odyssey®, Lithium Iron Phosphate (LFP), and customized.
Pump Plus feature included
Rotating mounting feet.

Information Screens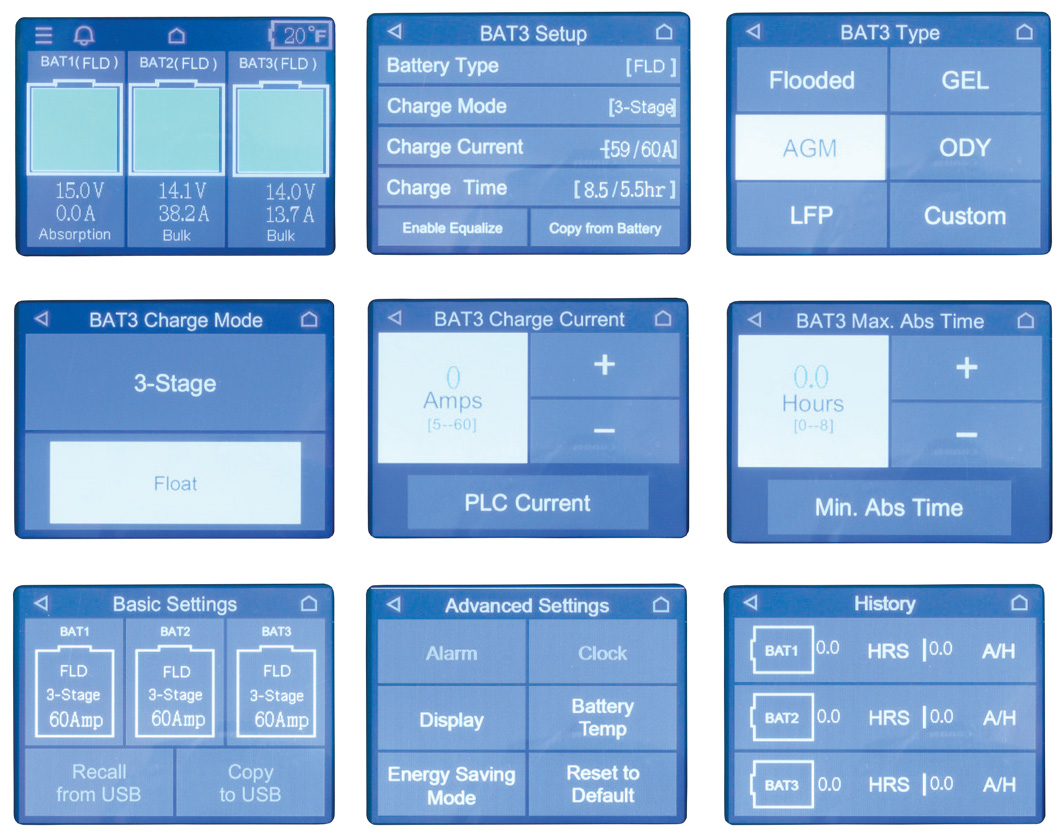 Remote Display Options
Remote Control Panel
091-266-RCP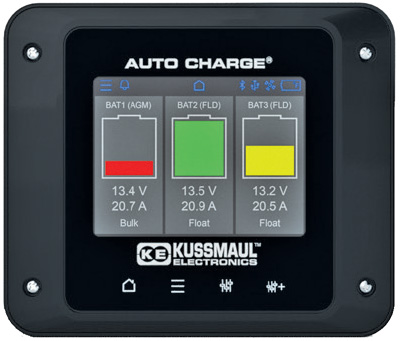 Super Auto Eject
Deluxe Cover available
091-55-266-XXX

| | |
| --- | --- |
| Charger with Battery Bank | Triple |
| Charger, Output Amperage | 40 |
| Chargers With Parasitic Load Compensation | Yes |
| Pump Plus | Yes |
| Charger with Remote Display included | No |
| Chargers with Remote Display Options | Yes |
| Charger, Output Voltage VDC | 12 |
| Charger, Input Voltage VAC | 120 Or 240 |
| Charger- Hz | 45/65 |
| Charger, Low Profile Design | Yes |
| Charging Profile | Float / 3-Step |
| Input Fuse | 10A SB |
| Input | 80-255 Volts AC, 50/60 H2, 9.8 Amps |
| Output Fuse | 80 Amps (Part Number: 090-0080-0) |
| Warranty | 5 years |
| Weight | 7.9 Lbs |
| Charge Indicator | Built-in LCD Display Indicates Battery Charge Level |
| Voltage Sense | No Sense Lines Required |
| Power Indicator | Indicates Input Power Applied |